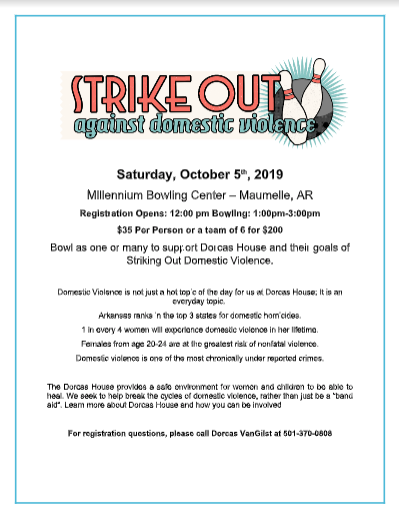 Strike Out Against Domestic Violence 2019
Event Date:      October 5th, 2019
Event Venue:     Millennium Bowling Center – Maumelle, AR
Event Time:     Registration Opens: 12:00 pm Bowling: 1:00pm-3:00pm
Cost:      $35 Per Person or a team of 6 for $200
Bowl as one or many to support Dorcas House and their goals of Striking Out Domestic Violence.
Domestic Violence is not just a hot topic of the day for us at Dorcas House; It is an everyday topic. Arkansas ranks in the top 3 states for domestic homicides. 1 in every 4 women will experience domestic violence in her lifetime. Females from age 20-24 are at the greatest risk of nonfatal violence. Domestic violence is one of the most chronically under-reported crimes.
The Dorcas House provides a safe environment for women and children to be able to heal. We seek to help break the cycles of domestic violence, rather than just be a "band-aid". Learn more about Dorcas House and how you can be involved.
For registration questions, please call Dorcas VanGilst at 501-370-0808
"There is no exercise better for the heart than reaching down and lifting people up. "
823 S. Park Street | Little Rock, AR
Phone (501) 374-4022 Ext. 3
Fax (501) 370-0804
2921 Springer Blvd | Little Rock, AR
Phone (501) 374-4022 Ext. 4
Fax (501) 375-5134
14710 Cantrell Rd. | Little Rock, AR
(501) 352-6662